Okay, I'm convinced. Drugs really are bad for you.

I blame Mrs. Thatcher. When the hippies and the anarchists and the musicians were running the drug trade, they would never let you get like this. The profit motive has spoiled it for everyone.

If you don't believe me, take a look at Keith Richards of the Rolling Stones, the world's most elegantly wasted human being.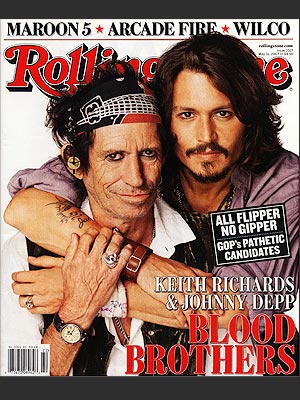 He's sixty-four years old, and he looks a lot better than your grandpa, doesn't he? And he gets to hang out with cool guys like Johnny Depp, climb trees, advertise Louis Vuitton, and still gets on with his day job.
So, if you want to take drugs, make sure you have a lot of money, a good doctor, and a good lawyer. And some really nice friends.
If you get into drugs because you're unhappy, messed up in the head, want to escape, or even worse, want to be popular, they won't help you. They'll just make you worse.
Here's two videos of Amy Winehouse from a few years back, when she was talented, curvy, and damned hot. I feel deprived.